COVID-19 Updates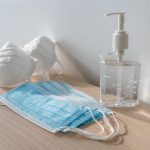 Please Reschedule Your Appointment/Procedure If:
• You are experiencing fever or respiratory symptoms.
• You've had direct contact (within 6 feet for an amount of time between 15 minutes and 24 hours)
with someone who has been diagnosed with COVID-19 in the past two weeks.
• You are waiting on the results from a COVID-19 laboratory test.
Masking
Masking is required for each person inside one of our facilities.
Unless instructed otherwise, masks must stay on for the entire visit.
Telemedicine
For high-risk patients, Charlotte Gastro offers personalized, quality care from the comfort of your home.
Schedule by calling 704-377-0246.
Learn more
New waiting room policies
Patients and patient's rides may wait (socially distanced) in our waiting rooms.
Patients may bring one person with them to their visit (spouse/significant other or support)
when needed to exam rooms.
Reduce the risk of spreading covid-19
Wash your hands often, preferably for 20 seconds, with soap and water.
Avoid contact with persons who have symptoms and are sick, or have been diagnosed with COVID-19.
Stay at home if you have fever and/or respiratory symptoms.
Disinfect surfaces which are touched frequently.
Practice social distancing guidelines.
We want our patients to know your care is of our utmost concern.
As always, we keep the highest standards of quality and cleanliness.
Although cases have decreased, contracting COVID-19 is still a risk.
Please work with us to provide safe surroundings for our patients and staff.