Harris, Patricia C., PA-C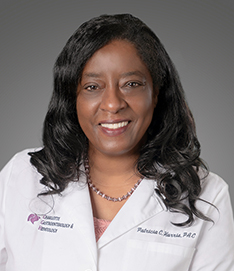 Undergraduate Education: 

North Carolina State University, Raleigh, NC

Medical Education: Duke University, Durham, NC

Patricia joined Charlotte Gastroenterology & Hepatology in January 2021, bringing 16 years of experience caring for patients in the field of gastroenterology. A native North Carolinian, Patricia received her undergraduate degree and Master of Health Science in the Research Triangle area before moving to Charlotte.

She is a member of the American Association of Physician Assistants (AAPA), North Carolina Academy of Physician Assistants (NCAPA), and North Carolina Society of Gastroenterology (NCSG).

Patricia is married and enjoys spending time with her family. Her leisure time activities include puzzles, reading, and traveling, which has included a past mission trip to Nairobi, Kenya. She's also volunteered at community health clinics and church-sponsored health fairs.
---
Reviews