Sanjib P. Mohanty, MD
Dr. Mohanty has a special interest in the treatment of inflammatory bowel disease and is trained in both diagnostic and advanced therapeutic endoscopic techniques, including ERCP. He is currently the chairman of the Gastroenterology Division at Novant Presbyterian Medical Center. Along with Dr. Wilson, Dr. Mohanty is the director of clinical research at Charlotte Gastroenterology & Hepatology's research center.
While attending medical school, he served proudly as co-president of his medical school class and was honored with a student research award by the American Digestive Health Foundation for work in the area of inflammatory bowel disease.
Dr. Mohanty is a member of the Crohn's & Colitis Foundation of America (CCFA), the Mecklenburg County Medical Society (MCMS), the North Carolina Medical Society (NCMS), and the North Carolina Society of Gastroenterology (NCSG). Since 2014, he has been consecutively recognized as one of Charlotte Magazine's "Top Doctors."
His hobbies include playing golf and tennis in his home town of Charlotte. Dr. Mohanty also enjoys traveling with his wife and two daughters.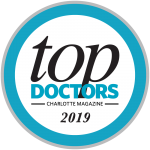 ---
Reviews