Viral D. Patel, MD
Dr. Patel joined the Charlotte Gastroenterology & Hepatology physician team in January 2019. Prior to his move to Charlotte, Dr. Patel practiced with Ohio Gastroenterology Group in Columbus, Ohio.
He is a member of the American Gastroenterological Association (AGA), the American College of Gastroenterology (ACG), and the American Society for Gastrointestinal Endoscopy (ASGE), for which he serves on a national committee. He has authored numerous journal publications and presented at professional society meetings. Charlotte Magazine recognized Dr. Patel in its 2019 "Top Doctors" edition.
Dr. Patel comes from a military family and moved around the world as a child. After receiving his undergraduate Biomedical Engineering degree, he decided to teach high school math and chemistry. During residency, he was able to consult for McKinsey and Company and this experience grew his passion for quality improvement within the field of gastroenterology. With this, he strives for excellent care and the best outcomes for his patients.
Dr Patel's wife, Dr. Dhwani Mehta is a practicing dermatologist and together they have one child. In his spare time, Dr. Patel enjoys reading, hiking, travel, cooking and sports; especially the NFL and Kentucky basketball.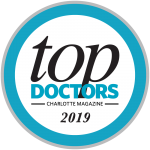 ---
Reviews